Archive for June, 2018
2 items.
Josh Silverman was at the HOW Design Live design conference in Boston to give a presentation about working at the layer of people. So, we talk about The People Layer and why it's so important. We also discuss things that constantly change (was the last FreeHand release really back in 2003? Did PageMaker really release a new version as recently as 2001?), and things that never really change in design (seriously, how did no mention of clients asking for the logo to be bigger come up?).
At the time of this recording (6 weeks ago? So, like 127 years ago in Twitter time?), Josh was, well, at Twitter, where he keeps his handle of @jhsilverman (might as well mention that mine is @36point I guess) – so let's talk working at a super well known company like that. And yes, one character Twitter names are both rare, valuable, and have people willing to steal them.
Josh, this is for you – I "think" this is the book I referenced that had a chart showing the titles and number of people on various team sizes. If anyone else can confirm / deny such statements, let us know. I had a copy of this book I loaned away around 2000 or 2001, and it was never returned (I likely would have gotten rid of it long ago regardless, so no issues to the party who took it).
I'm not exactly sure when or where I first met Josh, but I am pretty certain is was at an AIGA event of some sort. Joining the AIGA Nebraska board was one of the best decisions I've ever made in this profession – and one that has led me to meet so many other great volunteers and board members around the country. We speak a bit about this as well. Even when your AIGA term or volunteer service ends, it seems you never really give up those connections you made, or the desire to want to help again. And going to graphic design events starts to turn into a family reunion of sorts after a while.
Enjoy.


Podcast: Play in new window | Download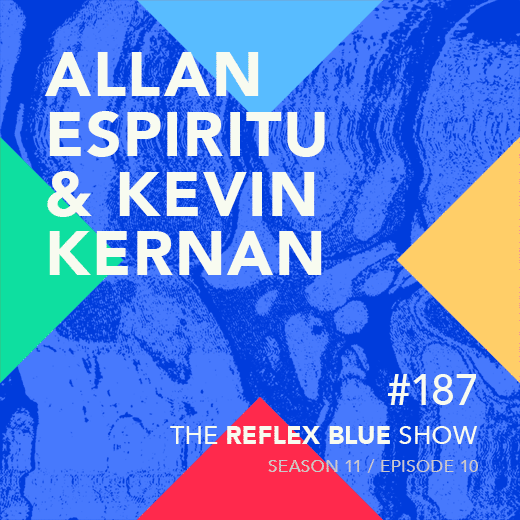 Allan Espiritu and Kevin Kernan of GDLOFT were at the HOW Design Live design conference in Boston to celebrate winning the Print Magazine Regional Design Award, Grand Prize with their poster designs for AIGA Philadelphia's 35th Anniversary. They were also signing slightly modified versions of these posters at the Neenah Paper booth while there.
And I have to say, these posters are sweet. I have a, well, crazy amount of stuff in the office, so it's not like one item can stand out that much, right? Or maybe so, as I hung up one of the three posters, and the first two people to visit the office afterwards (and not at the same time), immediately mentioned how cool this one poster was.
Anyway, we talk about the posters, about pop music lyrics, David Bowie, the colors for a 35th anniversary, GDLOFT, teaching, and wait – Allan not only works full-time at GDLOFT, but also seems to teach design full-time at Rutgers. We also talk a bit about fine-art, and advice for students.
Graphic design is such a wide and varied profession, that I always enjoy talking to people that see what they can do with design, and then make their own path rather than just follow what they believe to be the norm. And GDLOFT certainly makes their own roads in design. There may be a difference between fine art, design, and teaching, but there is also an overlap, and sometimes the best ideas come from those little areas that we find in-between.
Enjoy.


Podcast: Play in new window | Download