Allan Espiritu & Kevin Kernan: The Reflex Blue Show #187
on
June 11, 2018
at
1:28 pm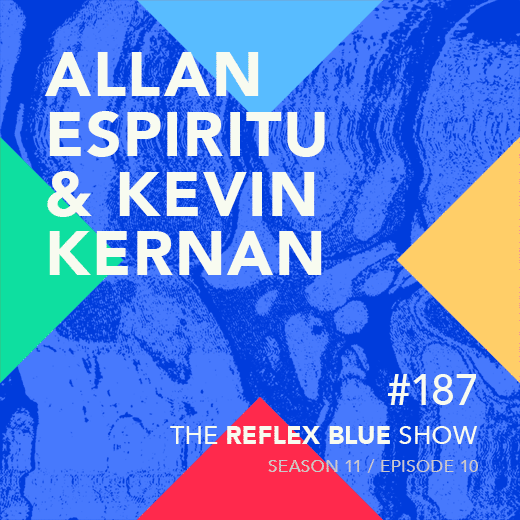 Allan Espiritu and Kevin Kernan of GDLOFT were at the HOW Design Live design conference in Boston to celebrate winning the Print Magazine Regional Design Award, Grand Prize with their poster designs for AIGA Philadelphia's 35th Anniversary. They were also signing slightly modified versions of these posters at the Neenah Paper booth while there.
And I have to say, these posters are sweet. I have a, well, crazy amount of stuff in the office, so it's not like one item can stand out that much, right? Or maybe so, as I hung up one of the three posters, and the first two people to visit the office afterwards (and not at the same time), immediately mentioned how cool this one poster was.
Anyway, we talk about the posters, about pop music lyrics, David Bowie, the colors for a 35th anniversary, GDLOFT, teaching, and wait – Allan not only works full-time at GDLOFT, but also seems to teach design full-time at Rutgers. We also talk a bit about fine-art, and advice for students.
Graphic design is such a wide and varied profession, that I always enjoy talking to people that see what they can do with design, and then make their own path rather than just follow what they believe to be the norm. And GDLOFT certainly makes their own roads in design. There may be a difference between fine art, design, and teaching, but there is also an overlap, and sometimes the best ideas come from those little areas that we find in-between.
Enjoy.


Podcast: Play in new window | Download