on
June 9, 2010
at
10:15 am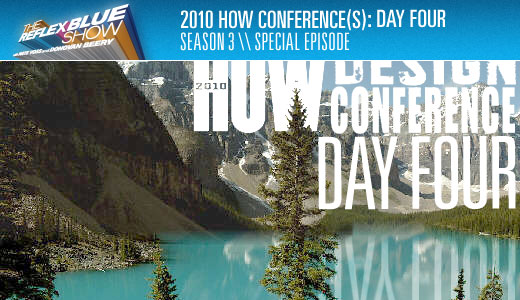 Tuesday brought was was the last full-day of programming at the 2010 How Conference – I am both completely worn out, and full-if energy at the same time from what has ended up being four crazy days of constant activity.
Neenah Paper was the host of the closing night's event, and they decided to throw a white party. There was way more white than I was expecting – who knew designers even had this much white in their wardrobe. But before we went in, we spoke with a few of the other conference guests in the hallway: Armin Vit of Under Consideration, Peleg Top, Cortney Christensen of Kansas City University of Medicine and Biosciences, and Terry Collier, Ph.D. (where he talks about the 3M Visual Attention Service he works on). And Mig Reyes stopped by at the end to offer another student tip.
Download The Reflex Blue Show, 2010 HOW Conference Special: DAY FOUR or, click here to subscribe to The Reflex Blue Show from the iTunes Music Store.
Podcast: Play in new window | Download