HOW IDC Recap Day 2
on
November 4, 2011
at
11:48 am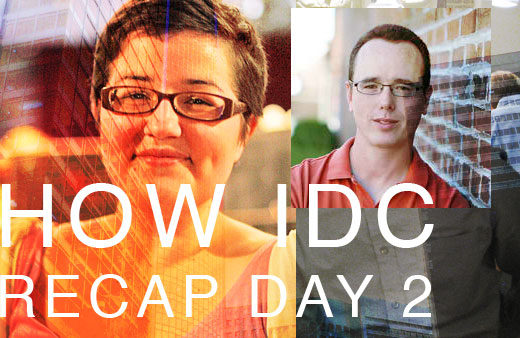 In the first half of my Day 2 podcast I am joined by conference goers Tess Donohoe and Rick Hassen. Tess works in the interactive design department of American Greetings in LA, and Rick is the husband half of a husband and wife design team out of Point Reyes Station CA. These two share what they have been getting out of the conference.
In the second half of the program I am joined by HOW speaker Patrick McNeil and HOW mc Grace Dobush (both pictured above). Patrick is a content director for the HOW Interactive Design website, and Grace is the executive director of that website. It was great to chat with this lively dynamic design duo!
(Listen for Tess Donohoe jumping in with her own questions for Patrick and Grace towards the end of the show!)
–Ben Lueders // Eleven19 Communications
Download The Reflex Blue Show,HOW IDC 2011 Recap Day 2 or, click here to subscribe to The Reflex Blue Show from the iTunes Music Store.
Podcast: Play in new window | Download